Official Dealer BAJOLOCK


More information?

Would you like to receive more information or a price offer from one of our products? Please contact us.
Home

›

Valves, Fittings & Couplings

› Bajolock safety couplings
Bajolock couplings - Safety first
Why should I use Bajolock couplings?
Bajolock couplings are similar to Camlock couplings, BUT with a very important difference.
When conventional Camlock couplings are opened there often still is pressure on the pipes and systems which can lead to very dangerous conditions and injuries.

How do Bajolock couplings work?
With Bajolock couplings you can ensure safety by the patented Dutch design.
When the Bajolock coupling is opened the pressure is first caught in the safety slot and equalised. Potentially harmful rest materials in the piping is automatically discarded away from the operator. With a short twist the Bajolock can be safely uncoupled.

When the coupling suddenly disengages under pressure, the male part will not shoot off as a deadly projectile.

Technical specifications
Bajolock couplings are made from high quality stainless steel (316 L)
Therefore it's more resistant to chlorine (compounds) and acid than other types of stainless steel.

The Bajolock safety coupling can be used in piping systems up to 10 bar, within a temperature range of -20 C to +65 C



Standard: Pressure Equipment Directive 97/23 / EC


The Bajolock couplings comply with the PED pressure systems.

Bajolock Compatibility
The Bajolock couplings are suitable for use with the standard couplings camlock.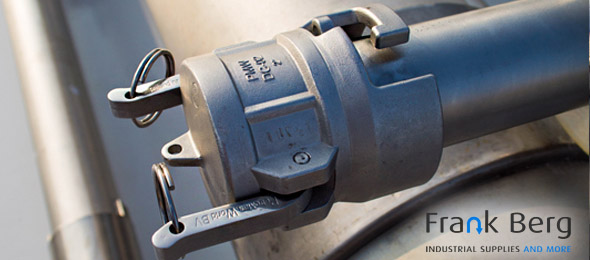 Bajolock adapter male with inner thread
Camlock safety coupling high pressure gas
BAJOLOCK - Type A

| | |
| --- | --- |
| Size: | Item nr: |
| 1" | bajolock A25 |
| 1 1/2" | bajolock A40 |
| 2" | bajolock A50 |
| 3" | bajolock A80 |

Bajolock coupler female with inner thread
Camlock safety coupling high pressure gas
BAJOLOCK - Type D

| | |
| --- | --- |
| Size: | Item nr: |
| 1" | bajolock D25 |
| 1 1/2" | bajolock D40 |
| 2" | bajolock D50 |
| 3" | bajolock D80 |






Bajolock Dust cap
Camlock safety coupling high pressure gas
BAJOLOCK - Type DC

| | |
| --- | --- |
| Size: | Item nr: |
| 1" | bajolock DC25 |
| 1 1/2" | bajolock DC40 |
| 2" | bajolock DC50 |
| 3" | bajolock DC80 |

Bajolock Dust Plug
Camlock safety coupling high pressure gas
BAJOLOCK - Type DP

| | |
| --- | --- |
| Size: | Item nr: |
| 1" | bajolock DP25 |
| 1 1/2" | bajolock DP40 |
| 2" | bajolock DP50 |
| 3" | bajolock DP80 |