IBC Bund made from high quality HDPE without seams. IBC bunds ensure safe storage of chemicals and other liquids in IBC containers. HDPE IBC spill pallets have a high chemical resistance for various acids, akalis, oils and non combustible chemicals.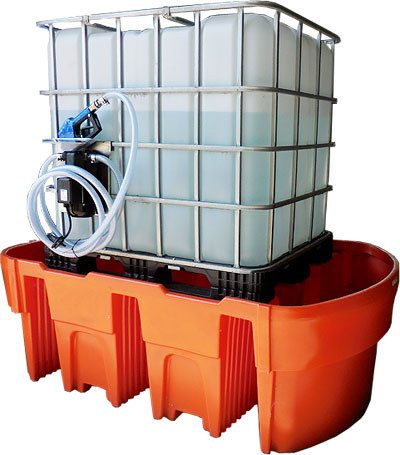 Above example shows an IBC with AdBlue on a IBC bund / spill pallet.
HDPE Plastic spill pallet for IBC totes
Tote Spill pallet capacity 110%, 1100 liters
Maximum load capacity IBC bund: 2000 kg.
IBC spill pallet is suitable for IBC Containers with a capacity of 600 liter and 1000 liters
The IBC bund is easy to move around with a forklift.
Your product is direcly accessible while on the IBC bund.
Guaranteed leak free because the bund is cut from one piece, no welds
5 years warranty
The IBC bund meets ISO 9001:2000 / FM 57348 standards
Dimensions. 1890 x 1330 x 670 mm

IBC bund double capacity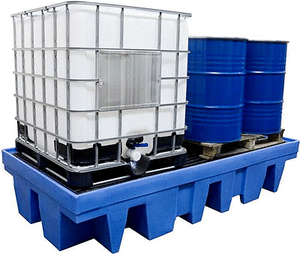 Item no. 6377
IBC spill pallet with sump capacity of 1150 liter - max load capacity 4000 KG
This IBC spill containment pallet is made according to ISO 9001:2000 FM 57348 standards
Size: 2340mm x 1225mm x 610mm
Weight: 91 kg

Optionally available with steel frame and outdoor shed cover.

Steel IBC bunds, Spill containment
Steel IBC bunds for 1 or 2 IBC containers with removable grid.
The IBC bund is standing on feet with a height of 100mm
Available in Thermal galvanized version or galvanized sheet steel
Sump capacity: 1000 Liters

| | |
| --- | --- |
| | |
| Steel spill pallet for 1 IBC | Steel spill pallet for 2 IBC's |

Steel IBC sump with a platform
Steel IBC bunds for 1 or 2 IBC containers with a platform so your IBC's are elevated for easy drainage. Made from Thermally galvanized steel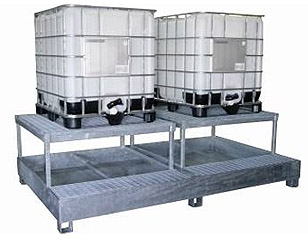 IBC storage cabinet
Bunded IBC storage cabinet made from galvanized steel with a sump capacity of 1000 liters.
The IBC shed has a fixed roof, a lockable door and a grid inside.

- Also available: IBC storage cabinet for 2 IBC containers.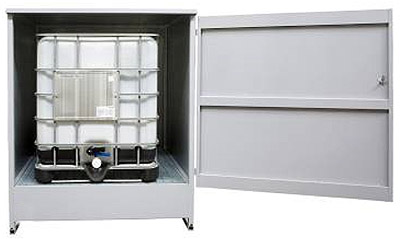 Stainless steel IBC Bund with tilting device
Stainless steel IBC spill containment pallet / sump, optionally on wheels with tilting device.
Check out other IBC tilting units.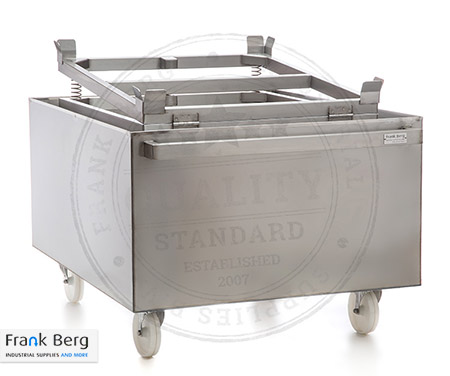 Other products for IBC containers