More information?

Would you like to receive a quotation
or more technical data on a product? Please contact us.
Reverse osmosis RO unit for IBC containers.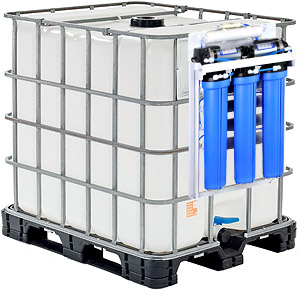 Our RO filters improve the quality of your water and filtering to 99% of the following substances from the water: chlorine, copper, barium, chromium, mercury, sodium, cadmium, fluoride, nitrate, selenium, sand, silt, rust.

With a compact size of about 25 x 55 x 80 This Reverse Osmosis system is ideally suited for food plants, machines, window cleaning, cleaning companies and companies with limited space.

RO system 4 = 1514 liters per 24 hours
RO System 6 = 2250 liters per 24 hours

Industrial RO systems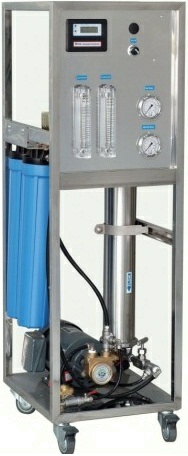 The larger types of RO units are used in hospitals, dialysis centers, laboratories, for water treatment facilities, in the pharmaceutical and chemical industries.
Available in the following capacities:
- 3000 liter per 24 hours
- 5600 liters per 24 hours
- 11355 liters per 24 hours
Minimum requirements:
The location must be equipped with a drain (waste water),
water supply, outlet with voltage 220V within 2 meters of the place RO plant.
Maintenance and service:
The reverse osmosis filters / membranes should be changed regularly to ensure the quality of the osmosis water.
In addition, the membrane must be checked every 6 months by means of TDS measurement.
Worldwide shipping
Quality products for Food- & Chemicals industry & Pharma
We have many customers in Europe, United Kingdom, Ireland, USA etc
© 2007 , Frank Berg industrial supplies